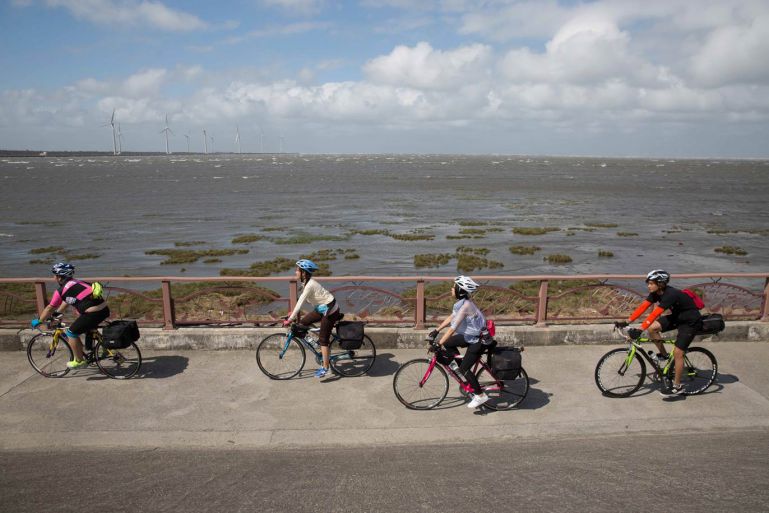 New Turn 轉彎之後
Hong Kong/Taiwan | 2017 | 103 minutes | Road Movie | Mandarin, Cantonese (English subtitles) | European premiere
Director: Doris WONG | Cast: Cherry NGAN, CHANG Tinghu, HUANG Yao, BO Zhijie
Description
In this picturesque travelogue, a Hong Kong woman goes on a bicycle trip around Taiwan with three quirky companions as she searches for her long-lost twin sister.
Hong Kong girl A-lan (Cherry Ngan) is stunned when she spots a Taiwanese girl on TV who looks exactly like her. Suspecting that she might be her long-lost twin sister, she goes to Taiwan to take the same bicycle trip that her doppelganger once took. Joined by three new friends from Hong Kong, Taipei and Beijing, A-lan embarks on a journey of growth laced with minor miracles.
Inspired by her own cycling trip around Taiwan, Hong Kong lmmaker Doris Wong makes her directorial debut with a lovely and light-hearted dramedy. Guided by Wei Te-sheng, the mastermind behind Taiwan blockbusters CAPE NO. 7, SEEDIQ BALE and writer Ruby Chen, who penned Wei's KANO, Wong has made a love letter to beautiful Taiwan and warm people.
See more:  Kriterion Website and Cinemasia Film Festival Website
Text source and photocredit:  Cinemasia Film Festival
Thu, Mar 8, 2018
/
17:00

-
Roetersstraat 170
the Netherlands