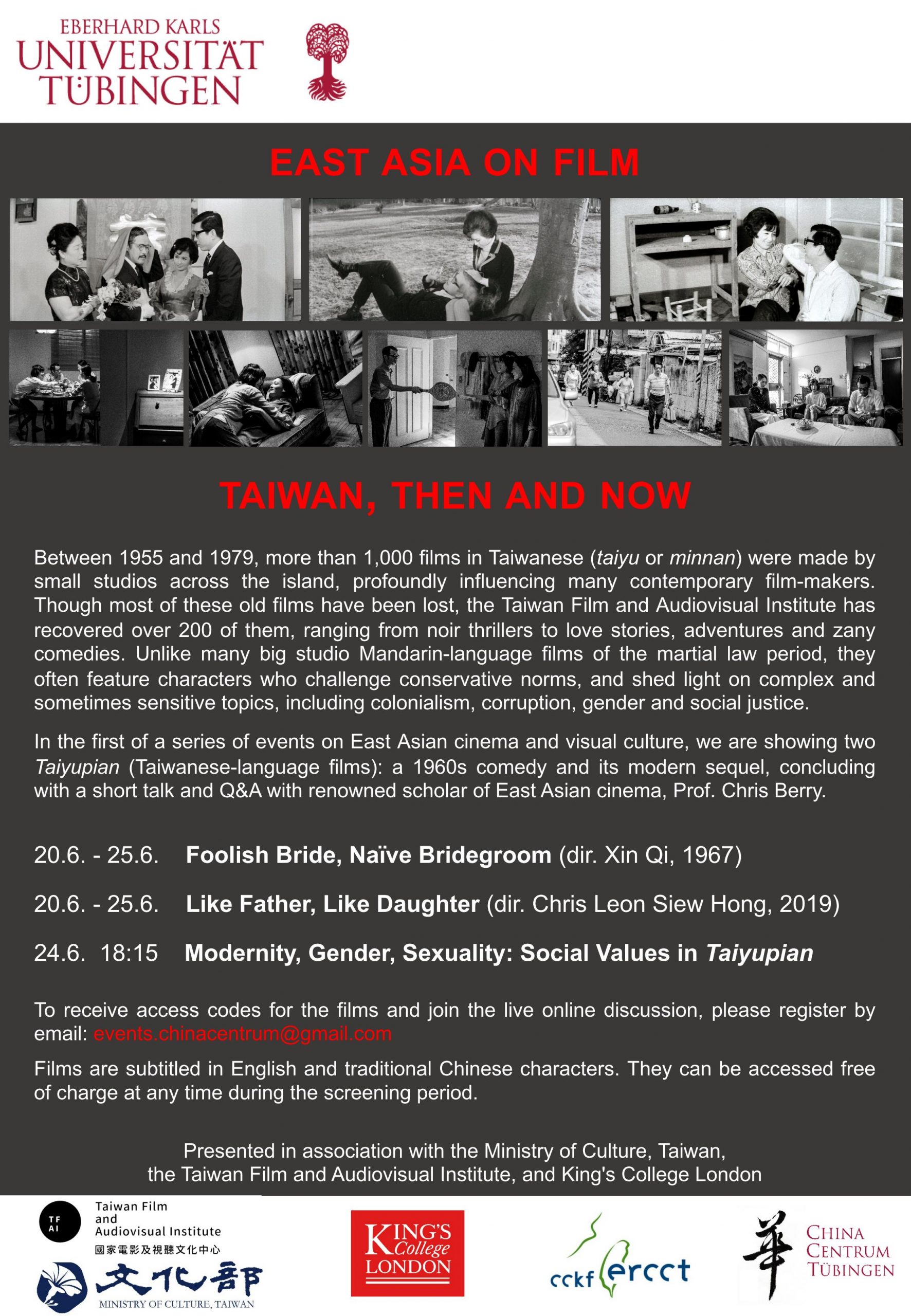 In the first installment of the new series East Asia on Film, CCT and ERCCT, will be showing two Taiwanese-language (taiyu) films from June 20 - 25:
Foolish Bride, Naive Bridegroom, a 1960s comedy, and Like Father, Like Daughter, a 2019 short film which picks up the story of the 'naive bridegroom' and his daughter a few decades later.
A short talk and live discussion with East Asian film expert Prof. Chris Berry will be held via Zoom on June 24, 18:15.
Please register via Email to receive access codes for the films and the Zoom-link for the live event here.
Films are subtitled in English and traditional Chinese characters and are available free of charge at any time during the screening period.
Foolish Bride, Naïve Bridegroom 三八新娘憨子婿
| Xin Qi | 1967 | 102 mins | Black and White |
A besotted boyfriend (Shih Chun) and his girlfriend (Chin Mei) plan to marry with both their families' blessings. Not until it's time to formalize the engagement does it come to light that thirty years earlier the boy's father and the girl's mother were romantically linked. As new love blossoms, an old love is rekindled. This zany 1960s romantic comedy is living proof that Taiwan was turning out films every bit as hilarious as Sorry That I Fell in Love with You as far back as the 1960s!
More about "Foolish Bride, Naïve Bridegroom"
Like Father, like Daughter 前世情人的情人
| Chris Leon Siew Hong | 2019 | 19 mins | Black and White |
Wen-te, the hero of the film Foolish Bride, Naive Bridegroom, is now a widower. But he is still being harassed by his female neighbours who are trying to marry their son to his daughter Jo-tung. She lives with her girlfriend, but does not dare to tell her father. He finally discovers the truth about them. But he has a little secret himself.
More about: "Like Father, like Daughter"
More about: Taiwan's Lost Commercial Cinema
Chris Berry
is Professor of Film Studies at King's College London. His academic research is grounded in work on Chinese-language cinemas and other Chinese-language screen-based media, as well as work from neighboring countries. Together with other colleagues, he has launched symposia and screenings of Taiwanese-Language cinema (www.taiyupian.uk). Primary publications include: (with Mary Farquhar) Cinema and the National: China on Screen (2006); Postsocialist Cinema in Post-Mao China: the Cultural Revolution after the Cultural Revolution (2004); (co-edited with Luke Robinson) Chinese Film Festivals: Sites of Translation (2017); (co-edited with Koichi Iwabuchi and Eva Tsai) Routledge Handbook of East Asian Popular Culture (2016); (edited with Janet Harbord and Rachel Moore), Public Space, Media Space (2013); Chinese Cinema, 4 vols, (2012); (edited with Lu Xinyu and Lisa Rofel), The New Chinese Documentary Film Movement: For the Public Record (2010); (edited with Kim Soyoung and Lynn Spigel), Electronic Elsewheres: Media, Technology, and Social Space (2010); (edited with Nicola Liscutin and Jonathan D. Mackintosh), Cultural Studies and Cultural Industries in Northeast Asia: What a Difference a Region Makes (2009); (edited with Ying Zhu) TV China (2008); (editor) Chinese Films in Focus II (2008); and (co-edited with Feii Lu) Island on the Edge: Taiwan New Cinema and After (2005).
More about the European Research Center on Contemporary Taiwan (ERCCT)
Text source and photo credit:  ERCCT Uni Tuebingen
Sat, Jun 20, 2020
–
Thu, Jun 25, 2020
/
.

-