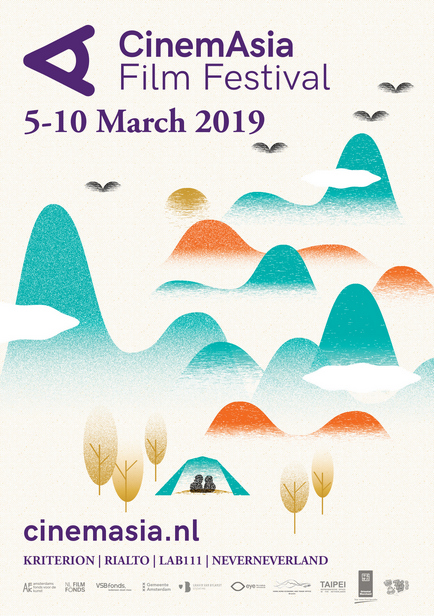 CinemAsia Film Festival takes place 5 to 10 March 2019 at Kriterion and Rialto cinemas in Amsterdam.
This year, CinemAsia has expanded the team to embrace new members, creating unprecedented synergy and passion. As a result, the programme has grown from 29 to 35 feature films from 15 countries, of which there are 3 international and 12 European premieres. CinemAsia welcomes guests from 10 countries.
In addition to the many great films (see the full program on Cinemasia Website) we'd like to draw your attention to these films related to Taiwan:
Taiwan | 2018 | 100 minutes | Family dramedy | Mandarin (English subtitles)
Director: Mag Hsu, Hsu Chih-yen | Cast: Roy Chiue, Hsieh Ying-Xuan, Spark Chen
Turning 18
Taiwan | 2018 | 87 minutes | Coming-of-age documentary | Mandarin (English subtitles)
Director: Ho Chao-ti
Father
Taiwan | 2018 | 99 minutes | Documentary | Mandarin (English subtitles)
Director: Yang Li-chou | Cast: Chen Shi-huang
Long Time no Sea

Taiwan | 2018 | 96 minutes | Children, ethnic dance | Mandarin, Tao Dialect (English subtitles)
Director: Heather Tsui | Cast: Huang Shang-He, Pangoyad Si a.k.a. Zhong Jia-jun
Cities of Last Things
Taiwan | 2018 | 107 minutes | Sci-fi Mystery, Drama | Mandarin (English subtitles)
Director: Ho Wi-ding | Cast: Jack Kao, Lee Hong-chi, Louise Grinberg, Ding Ning
Secrets in the Hot Spring
Taiwan | 2018 | 109 minutes | Horror comedy | Mandarin (English subtitles)
Director: Lin Kuan-hui | Cast: Zhang Ting-hu, Huang Yan-xiang, Lin He-xuan
Festival Trailer 2019
Special events
LGBTQ special
LGBTQ identity and experience, such as the LGBTQ positions in Asian society in the context of legal rights, protection, structural inequality, and examine how these factors may impact their personal lives. The Netherlands is the first country in the world to legalise marriage between same-sex couples. By contrast, Asia is still the only continent in the world without a single country that recognises same-sex marriage, despite the efforts of activists, politicians and civil societies. Hopefully, 2019 could mark the beginning of an important milestone for LGBTQ rights in Asia – Taiwan will join soon.
CinemAsia wants to embrace this historic moment by curating an evermore inclusive film programme: Dear Ex (Taiwan), Rainbow's Sunset (The Philippines), Fish Bones (USA), Turning 18 (Taiwan), First Night Nerves (Hong Kong) and the special back-to-back Trans Focus screening of trans-centred films: The Rib (China) and Tracey (Hong Kong).
Complementing the film programme is the exhibition, Our Lives Elsewhere, which will be open from 1 March until 10 March at NeverNeverLand. The exhibition showcases the work of interdisciplinary artist Jonathan Ho and photographer Xiaoxiao Xu. Both are queer Asian creatives based in The Netherlands in dialogue with the growing Queer / Asian Archive, where materials are collected through an online open call.
CinemAsia hopes to welcome you at the opening event of the exhibition, Our Lives Elsewhere on the evening of 1 March hosted by Mirko van der Laan at NeverNeverLand!
Please visit the Facebook page for more details.
Cinema Asia Food Bazar
Inspiring food films and the CinemAsia Food Bazar with culinary delicacies from different Asian cultures were always successful parts of the festival. As a logical next step of this success, this year the festival introduces the section OISHII Asia. Oishii' is the Japanese word for 'delicious' and since Japan is known as the pioneer of culinary cinema in Asia, CinemAsia chose this appropriate name. This edition allows the audience to enjoy four OISHII Asia films as well as a rich culinary offer as part of the side-programme.
Cutting Across Asia and Europe: Keynote Lecture on Storytelling by Editor Mary Stephen
Following the huge success of last year's masterclass held by our Competition jury members Joko Anwar and Martin Koolhoven, CinemAsia continues to introduce the craft and expertise of Asian filmmaking to the Netherlands. Targetting film students, professionals and cinephiles, Stephen's lecture will focus on Asian storytelling from an editor's perspective. This lecture is open to the public, who will be given substantial time to interact with Stephen and get her expert tips.
More at CinemAsia Website
Link to more  CinemAsia Special Events
About CinemAsia Film Festival
Mission
CinemAsia weaves Asian stories that help to enhance Asian visibility in culture and media, through which we foster an inclusive society.
Vision & Ambition 2030
CinemAsia enriches the public discourse on Asian culture by sharing knowledge and expertise about Asian identity, discovering and nurturing talent. By building communities within the media and cultural landscape CinemAsia aims to become the go-to organization for European-Asian exchange.
Link to CinemAsia Film Festival
CinemAsia FilmLAB 10th Anniversary
2019 marks the 10th anniversary of FilmLAB, 55 CinemAsia's talent development program. Throughout the years FilmLAB has given aspiring filmmakers with Asian roots the opportunity to turn their personal stories into short films. Thus far this has resulted in the production of almost 30 short films.
CinemAsia believes that filmmakers, producers, writers, cinematographers and actors with Asian roots have a wealth of stories to tell that rarely make it to Dutch screens. That's why FilmLAB offers them the knowhow and equipment to get their projects off the ground and connects them to the Dutch film and television industry in order to stimulate a more durable and wider range of Asian representation in the media in the Netherlands and abroad.
More about FilmLAB
See schedule on our calendar and get all the info from Cinemasia Film Festival's Website
Photocredit: CinemAsia Film Festival