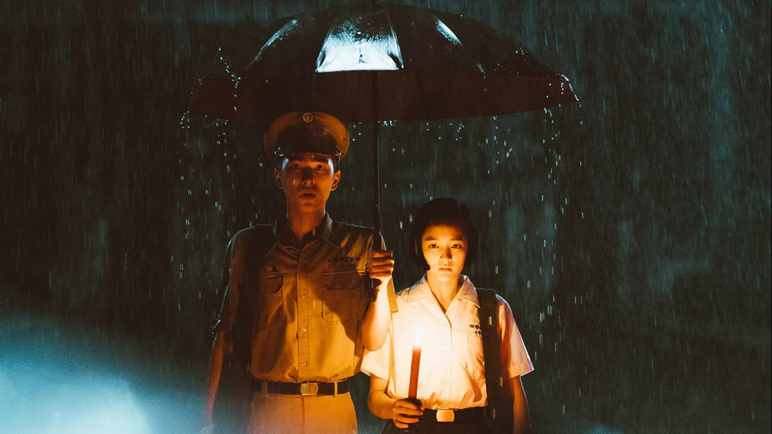 Detention ( 返校 )
Taiwan | 2019 | 103 minutes | Director: John Hsu | Mandarin | Medium: DCP | European Premiere |
 Producer: Lieh Lee, Aileen Li | Production Company: 1 Production Film Co., Filmagic Pictures Co. |
Sales: MandarinVision Co. Ltd. |
Writer: Shih-Keng Chien, Lyra Fu, John Hsu | Cinematography: Chou Yi-hsien | Editor: Meng-Ju Shieh |
Production Design: Chih-cheng Wang | Sound Design: Book Chien, Dennis Tsao | Cast: Gingle Wang, Chin-Hua Tseng, Fu Meng-po
One spooky night, Fang (Gingle Wang) and a classmate are at their secondary school, looking into the disappearance of their friends and teachers who founded an illegal book club. Taiwan, 1962: the Chinese occupation. Political literature is strictly prohibited and its dissemination is severely punished. Wandering the creaky hallways, Fang discovers a dark secret about her role in the disappearance of her rebellious schoolmates.
Taiwanese director John Hsu's feature film debut is based on the popular, eponymous video game. Detention combines a historic school drama with psychological horror to make Taiwan's repression tangible. The refreshing combination of genres, great acting – with the cast alternating between horror and drama – as well as spine-chilling sound and computer-generated effects made this the box-office smash of the year in its home country.
Awards and Recognitions
Detention received twelve award nominations at the 56th Golden Horse Festival 2019 (the most of any film that year) and was a big winner at the ceremony, taking the best new director, best adapted screenplay, best visual effects, best original film song, and best art direction prizes. The film is based on a video game of the same name and has been a box office hit in Taiwan.
More info:
Detention on IFFR 2020 Website
Detention on Wikipedia
Detention on facebook
Text source and photo credit:  International Film Festival Rotterdam IFFR 2020
Fri, Jan 31, 2020
/
10:30

-

12:14