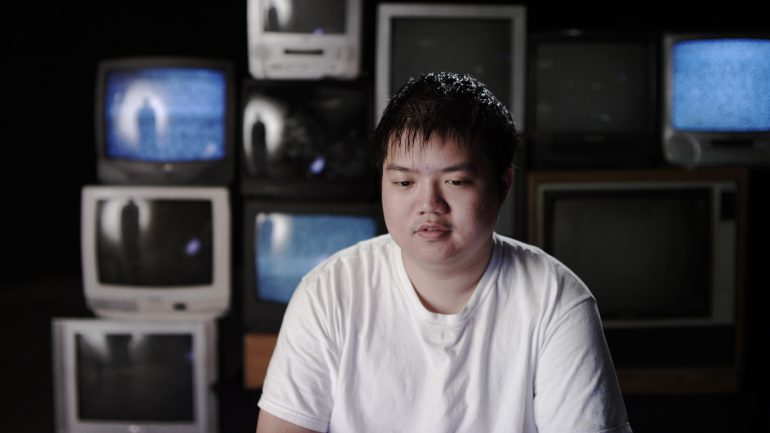 WHO IS ARTHUR CHU?
Directed by Scott Drucker, Yu Gu
USA / 2017 / Documentary / 90 mins / English, Mandarin with English subtitles / DCP
Description
Official Selection, 2017 Slamdance Film Festival
Official Selection, 2017 Hot Docs Canadian International Documentary Festival
Official Selection, 2017 CAAMFest
Call him belligerent, repugnant, or a gauche, opportunistic sleazeball. Use every other mean word in the dictionary. Go too far, do your best to hurt his feelings. It won't stop Arthur Chu from doing whatever it takes to win big.
Incorporating glimpses of his married life, strongly-worded tweets from incensed keyboard warriors, and footage from his legendary, highly-controversial eleven-game run on Jeopardy!, WHO IS ARTHUR CHU? fishes under the hood to uncover exactly what it is that keeps this champion up, running, and motivated. Is it the difficult memory of his childhood spent under the reign of a double life-leading father? His self-professed inability to believe that his wife hasn't divorced him yet? Or could it be something as
simple as his indomitable competitive spirit, that ever so sought-after drive to stand uncontested at the top?
Or maybe that all beats around the big picture. What his fifteen minutes of TV fame have bought him is something invaluable. An audience. A fanbase and haterbase. A fully decked-out platform for self-expression, for bringing into the public consciousness a greater awareness of those topics dear to his heart: nerd culture, social justice, and the almost taboo intersections between them. Shrugging off insults, bathing in the tears of his critics, and making change happen, Arthur Chu has never taken his eyes off the prize. –Thomas Jin
Text source and photocredit:  San Diego - Asian Film Festival
Sun, Nov 12, 2017
/
13:40

-
Price Center Theater
9500 Gilman Dr, La Jolla
USA