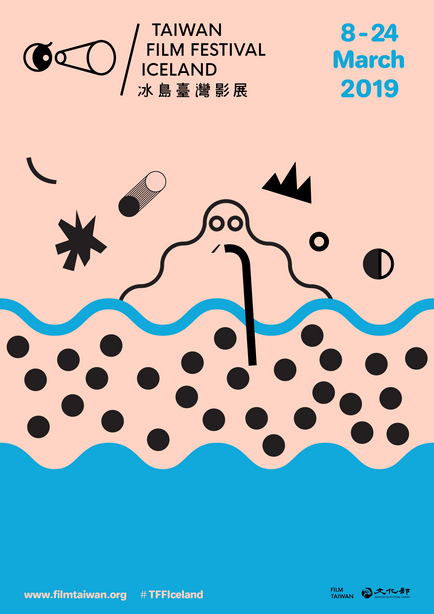 FilmTaiwan announces the inauguration of the Taiwan Film Festival in Iceland and the UK. The festival celebrates Taiwan's long and tempestuous history and diverse cultural heritage through the uncensored lens of independent Taiwanese filmmakers.
An exciting programme of films will cover a broad range of topical issues that are both particular to Taiwan and also speak to a global audience – including LGBTQ rights, ethnicity, land rights, environment and politics. As the only Mandarin-speaking country in the world who promotes freedom of speech, Taiwan has a powerful voice to tell stories others cannot.
Kicking off in Iceland, the festival will run from 8 – 24 March. The opening film, The Great Buddha + will be featured as part of the StockFish Film Festival and the rest of the programme will be screened at independent cinema Bió Paradis and IDNÓ, a popular events space next to the
Reykjavík Town Hall.
"Bringing the Taiwan Film Festival to Iceland and the UK was an obvious fit because of the strong roots of storytelling and independent filmmaking on each of these islands. Iceland's festival programme is inspired by films which give a voice to forgotten places and peoples," says festival
curator Aephie Chen.
This will be a trailblazing festival programme with over 50% of the films screened made by female directors and the showing of a number of films which have never been released in Iceland or the UK. Several of the Taiwan-based filmmakers will attend the Taiwan Film Festival for
post-screening Q&As, a storytelling workshop, as well as a special reception, "The Storyteller from Taiwan" on 20 March to celebrate Wei Te-Sheng's work.
The festival will open with a screening of the award-winning The Great Buddha +, directed by Huang Hsin-Yao, a black comedy looking at political corruption through the eyes of two disenfranchised lonely losers. This will be followed by a Q&A with the director.
There will also be a selection of short films starting with the The Glamorous Boys of Tang – a gender-bending, surreal story which was developed from an unfilmed scene from the 1985 cult film Tang Chao Chi Li, due to the censorship laws of the time. Female director, Heather Tsui's debut Long Time No Sea is a feel-good, family drama set in the indigenous Tao community of Taiwan's Orchid Island.
Three intricate and seemingly unrelated storylines are interwoven into one in Chen Singing's God Man Dog, a thrilling Taiwanese drama that illustrates the conflicts between city and countryside, immigrants and indigenous people, as well as the different religions that exist on the island.
And finally a collection of films from acclaimed filmmaker Wei Te-Sheng including Warriors of Rainbow: Seediq Bale, Cape No. 7, Pusu Qhuni and KANO. Each will be followed by a filmmaker Q&A or a storytelling workshop.
After the screenings in Iceland, the Taiwan Film Festival will travel to the UK in April 2019 where a second programme of independent Taiwanese films will be screened at various prestigious locations.
Taiwan Film Festival
The Taiwan Film Festival is a collaborative effort between FilmTaiwan and the Cultural Division of the Taiwan Representative Office to showcase the talented and distinct cinematic voice of Taiwan through a programme of classic and new independent films. It also aims to provide opportunities for Taiwanese filmmakers and producers to showcase their works to Icelandic and UK distributors with the goal of creating interactions between the countries.
Aephie Chen is a Taiwanese-born British filmmaker, based in London, and the founder and artistic director of the first Taiwan Film Festival in the UK and Nordic countries. After studying architecture and fashion, she has been practising her concepts and themes across set design, costume design, radio and visual artworks in Europe, USA, Japan and Taiwan. She completed an MA in filmmaking at the London Film School and now writes and directs. She has lived in many countries in her life and the stories she tells are often drawn from relationships, dreams, struggles, identities and self-exile in contemporary society.
Follow Taiwan Film Festival Iceland 2019 for the full Film programme with links for booking.
Link to Taiwan Film Festival Iceland 2019
More about Reykjavik here: Inreykjavik (nice Website in German)  or the Official Reykjavik Website.
Text- and Photocredit: Film Taiwan