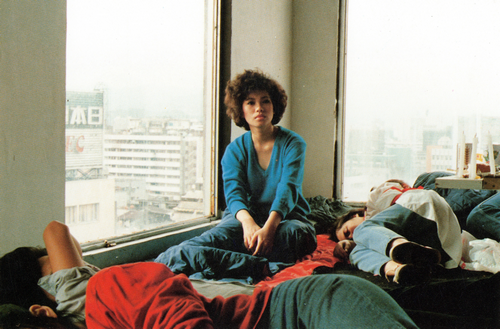 The 41st Hong Kong International Film Festival HKIFF41 (11 to 25 April 2017, Hong Kong) will present "Edward Yang, 10-year Commemoration", a retrospective of the late director's works.
Cinephiles can enjoy the rare opportunity to revisit all of his seven feature films, including the newly restored classics Taipei Story (1985) and A Brighter Summer Day (1991).
Hailed as one of the greatest Chinese filmmakers of modern times, Edward Yang chartered the course of the New Taiwanese Cinema of the 1980s, influencing generations of filmmakers with his vision and aesthetics, and his critical observation of the contemporary world.  His debut feature, That Day, On the Beach (1983), already demonstrated his innovative approach to narrative in tracing the divergent paths of two friends through an intricate series of flashbacks.
Screening for the first time in Hong Kong, the two newly restored classics are not-to-be-missed: Taipei Story (1985) spirals out the past and the future of Taipei through a slow dissolution of a couple's romantic relationship; A Brighter Summer Day (1991) is Yang's painstaking reconstruction of a deliberately forgotten era, a monumental film that carries a vision and impact unmatched in Chinese language cinema.
The somewhat dreamlike The Terrorizers (1986) reveals a sense of estrangement and stifling life in the modern city.  His two satirical comedies, A Confucian Confusion (1994) and Mahjong (1996), are reflections and critiques of the enormous transformation of Taiwanese society in the last decade of the 20th century.  A One and a Two (2000), a cryptic and beautifully nuanced story of a middle-class family, is his final contemplation on life's complexities.
Hsiao Yeh, a long-time partner of the director and screenwriter of The Terrorizers, will visit the Hong Kong International Film Festival to discuss his collaboration on A Brighter Summer Day.  Kaili Peng, Yang's widow who was responsible for the original score in A One and a Two, will also attend the festival as a guest speaker to meet the audience.
On the occasion of the retrospective the Festival will also publish a revised edition of its original programme catalogue "The One and Only, Edward Yang" from 2008.  The Festival is also delighted to announce that Moleskine is producing a special edition notebook celebrating the work of Edward Yang as part of its annual partnership with Moleskine.
See all film details on our Calendar for April 2017.
For details, please refer to the announcement on the HKIFF41 official website and HKIFFS Facebook page.
The Hong Kong International Film Festival (HKIFF) is one of the Asia's oldest and most reputable platforms for filmmakers, film professionals and filmgoers from all over the world to launch new work and experience outstanding films.
Screening over 250 titles from more than 55 countries in over 11 major cultural venues across the territory, the Festival is Hong Kong's largest cultural event. For the past seven years, HKIFF has also produced and premiered anthologies of short films by well-known award winning filmmakers from Asia such as Ann HUI, KUROSAWA Kiyoshi, JIA Zhangke, Brillante MENDOZA, NAKATA Hideo, TSAI Ming-liang, Apichatpong WEERASETHAKUL and among others. From 2017, HKIFF will collaborate with Heyi Pictures to produce two feature films a year by young Chinese filmmakers that will world premiere at HKIFF.
Committed to discovering new talent, the Festival premieres the breadth of Chinese cinema and showcases Asian talents. Festival-goers enjoy world-class films, attend seminars hosted by leading filmmakers from around the world, visit film exhibitions, participate in receptions and parties, and more.
The Festival draws extensive media coverage from over 300 local and international members of the press and continues to grow in importance as one of the premier platforms to launch films in Asia.
The 41st Hong Kong International Film Festival (HKIFF41) will be held from 11 to 25 April 2017.
About The Hong Kong International Film Festival Society Limited
The Hong Kong International Film Festival Society Limited (HKIFFS/Society) is a charitable, non-profit and non-governmental organisation dedicated to the discovery and promotion of creativity in the art and culture of film.
The Society is committed to making world cinema accessible and affordable to the public. It organizes the annual flagship the Hong Kong International Film Festival (HKIFF) and the Hong Kong – Asia Film Financing Forum (HAF) in March and April. Another annual highlight is the Summer International Film Festival (SummerIFF) held every August. The repertory HKIFF Cine Fan Programme was launched in April 2013 with the aim to enrich and deepen the experience of Hong Kong moviegoers through a monthly programme of contemporary, retrospective and thematic showcases.
Through its annual programmes, the Society promotes international appreciation of Asian, Hong Kong and Chinese film culture; introduces world cinema to Hong Kong audiences; and continues to underline Hong Kong's key position in the international film community.
HKIFFS's dedication to quality and intelligent programming, its devotion to the discovery of new areas of filmmaking in Asia and China, its exceptional work for Hong Kong cinema, seminars and acclaimed publications, gives it a unique and respected international reputation that helps promote Hong Kong cinema at home and abroad.