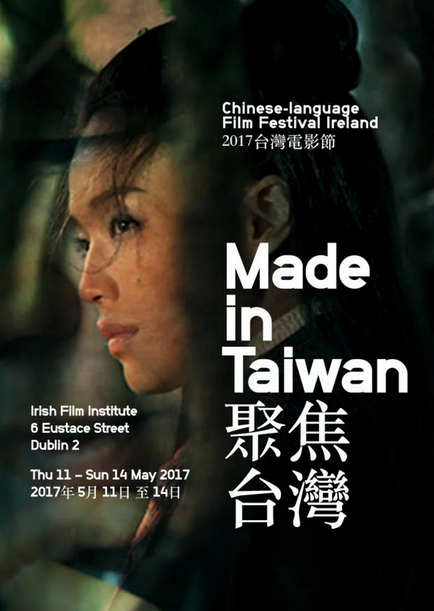 The inaugural Chinese-language Film Festival Ireland débuts this year at the Irish Film Institute with Made in Taiwan, a festival highlighting the work of master filmmaker Hou Hsiao-Hsien and his longtime collaborator, screenwriter Chu Tien-Wen.
The festival will run from May 11th to 14th and will feature rarely-screened award-winning films by the internationally-acclaimed Taiwanese master director, as well as an exclusive masterclass and post-screening Q&As. The masterclass, supported by Screen Training Ireland, will be led by Chinese-language cinema expert Professor Chris Berry of King's College London.
Commenting on the festival's slate, Programme Director Marie-Pierre Richard said, 'Hou Hsiao-Hsien has been instrumental in bringing East Asian cinema to the world stage. His subjects are intimate and personal, but his films speak to a universal, timeless human experience. We are grateful he and Chu Tien-Wen have generously accepted our invitation to visit Ireland and launch this festival.'
Regarded as the founding father of the 1980s Taiwanese New Wave movement, Hou's films are distinct in their melancholy, impressionistic, and passionately humanist style. They offer an intimate and uncompromising radiograph of Taiwan's history of change. Long shots and largely static camera positions make his films instantly recognizable. His work is powerfully immersive, filled with nuance and intuition.
The festival opens on May 11th with a screening of the martial arts epic The Assassin (2015) set in 9th-century China during the last years of the Tang Dynasty. Filmed on location in Taiwan, Mongolia and Hubei Province, the film centres on an assassin tasked with killing corrupt officials by her master, Jiaxin. The film won the Best Director prize at Cannes, and was nominated for several international awards including the BAFTA for Best Foreign Language Film. The screening will be followed by a Q&A with the director and screenwriter.
The festival will feature rare screenings of three films spanning Hou's career. Fuelled by memories from childhood, A Time To Live, A Time to Die, is both autobiographical and universal. The recently-restored The Boys from Fengkuei (1983), reflects on Hou's youth, with gangs on the streets of southern port city Kaohsiung, while A City of Sadness, winner of the Golden Lion at the Venice Film Festival, is rooted in a haunting period of 20th century Taiwan history.
The festival will also present the Irish premieres of Huang Hui-Chen's documentary Small Talk (Best Documentary, Teddy Award, Berlinale 2017) and Midi Z's The Road to Mandalay (Fedeora Award for Best Film, Venice Film Festival, 2016). A special screening has also been organised with the support of the Taiwan Film Institute of the remastered wuxia martial arts classic A Touch of Zen (1971), the first Chinese-language film to win at Cannes, plus a programme of six short animation films curated by Dr. Chi-Sui Wang, Executive Curator, KuanDu International Animation Festival (KDIAF) and presented in association with KDIAF and the Animation Department, Taipei National University of the Arts.
David O'Mahony, Head of Cinema Programming at the IFI, added, 'This festival gives audiences the opportunity to see the very best of modern Taiwanese cinema, alongside rarely-screened classics that form the basis of the canon of cinema from east Asia. We're particularly excited to have Hou Hsiao-Hsien and Chu Tien-Wen visit the festival to discuss their acclaimed work.'
MADE IN TAIWAN SCHEDULE:
THURSDAY MAY 11th (18.00): The Assassin
The screening of The Assassin will be followed by a Q&A moderated by John Maguire of the Sunday Business Post.
FRIDAY MAY 12th (18.00): A Time to Live, A Time to Die
The screening of A Time to Live, A Time to Die, will be followed by a Q&A moderated by Tara Brady of The Irish Times.
FRIDAY MAY 12th (21.15): Small Talk
SATURDAY MAY 13th (12.00): Masterclass with Hou Hsiao-Hsien
SATURDAY MAY 13th (14.30): The Boys From Fengkuei
SATURDAY MAY 13th (18.00): The Road to Mandalay
SUNDAY MAY 14th (14.00): A Touch of Zen
The screening of A Touch of Zen will be introduced by Professor Chris Berry
SUNDAY MAY 14th (17.30): A City of Sadness
The screening of A City of Sadness will be followed by a conversation with Hou Hsaio-Hsien, Chu Tien-Wen, and Professor Chris Berry
Download full festival program here
ABOUT THE IFI
The Irish Film Institute is Ireland's national cultural institution for film. It provides audiences throughout Ireland with access to the finest independent, Irish and international cinema. It preserves and promotes Ireland's moving image heritage through the IFI Irish Film Archive, and provides opportunities for audiences of all ages and backgrounds to learn and critically engage with film.
ABOUT HOU HSIAO-HSIEN
Born to Hakka parents in Guangdong Province, Hou fled to Taiwan as an infant with his family to escape civil war in China.  After Hou dropped out of high school, he completed his mandatory military training, and ran away from his family to Taiwan's capital city of Taipei, eventually graduating from the National Arts Academy, where he became enamored of New Wave directors like Godard and Truffaut.
Since directing his début feature Cute Girl in 1980, Hou has enjoyed a prolific career as a director of 21 films, and as a producer on 14 films including the Oscar Nominated Raise the Red Lantern directed by Zhang Yimou. Six of his films have been nominated for the Cannes' Palm D'Or. Hou's long list of international accolades include the Cannes Best Director Award for The Assassin (2015), the Locarno International Film Festival Leopard of Honour (2007), the Cannes Jury Prize for The Puppetmaster (1993), the Venice Film Festival's Golden Lion for A City of Sadness (1989).