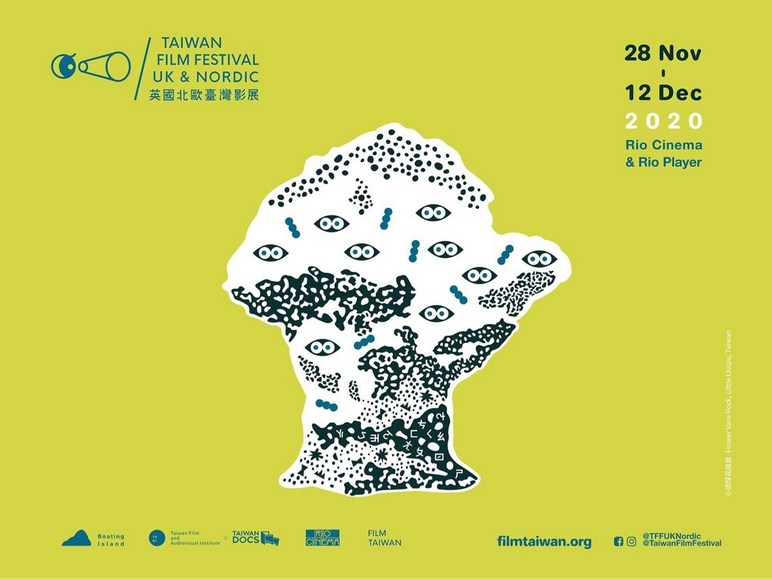 The Taiwan Film Festival UK has teamed up with independent Dalston-based Rio Cinema and its online platform, Rio Player, to host a programme of socially distanced in-cinema screenings and online films this November and December.
The Festival will feature UK film premieres with live Q&As, short films, live music, dance, and spoken word performances – as well as a screening of a book club discussion led by abducted Hong Kong bookseller, Lam Wing-Kee of Causeway Bay Books in support of freedom of speech and independent press.
Building on the programme which kicked off in March 2020, this second chapter of the Taiwan Film Festival centers around the theme 'Wounded yet Healed'. Its line-up features six feature-length documentaries that confront worldwide issues, including the struggle for democracy and freedom of speech, protesting industrialization, and giving voice to the climate crisis.
"The Rio Cinema has a long history of supporting diverse cultures and telling their stories," said Rio programmer, Peter Howden. "We are thrilled to continue this tradition by giving this year's Taiwan Film Festival a home in the UK. We look forward to welcoming online viewers from around the world and hope to safely host local cinema-goers post-lockdown to experience the struggles and triumphs of these stories."
"We've worked hard to connect with – and support – artists, filmmakers, musicians, poets, and activists to curate the content for this year's Festival, said Taiwan Film Festival director and curator, Aephie Chen. "The historic, independent Rio Cinema is the perfect partner for our exploration of diverse culture, history, environment, and politics through the human lens of Taiwanese experiences.
"Like so many events this year, the Taiwan Film Festival UK has been interrupted by the COVID 19 crisis and we are thankful to Rio Cinema for hosting this second chapter of our Festival. Safety is of paramount importance to all of us, so we are working closely with the Rio Cinema to provide a safe and enlightening cultural experience for all our supporters," continued Aephie.
The Katthveli Book Club makes its debut at the Festival with an online event, featuring a rare interview with Lam Wing-Kee online on 1 December. The book club-style discussion explores the activist bookseller's experiences and literary selections.
The Festival will now kick-off online on the Rio Player with The Price of Democracy and Path of Destiny, both running online from 28 November – 5 December.
The Price of Democracy will include a pre-recorded interview with its celebrated director, Liao Jian-hua, and producer, Jewel Chen-Lin. The documentary looks back on the 40-year-history of democratization in Taiwan through the life experiences of two octogenarians who are grass-roots rebels: Tseng, a female novelist who got divorced due to her political idealism in the era of White Terror; and Kang, a canvasser who is known as a 'Microphone Man'.
Path of Destiny is director Yang Chun-Kai's exploration of Taiwanese indigenous shaman, Panay Mulu will be available to view on the Rio Player from 28 November – 5 December, with a pre-recorded online Q&A with Panay Mulu taking place on 5 December.
The UK premiere of Ocean explores the environmental theme of the Festival with its screening at the Rio moved to 5 December, provided lockdown is lifted as anticipated.Ocean will be introduced with a recording from director Ke Chin-Yuan. Described as 'a selfless, forward-looking documentarian's long and silent protest for Taiwan's environment', the film tackles the issue of climate change in a very different way than the narrated approach familiar with Westerners.
Wishing to let the environment speak for itself, Ke Chin-Yuan's hour-long film documents the creatures in the Pacific without commentary or narrative – alerting viewers to the ocean crisis and allowing them to re-frame their own interactions with the sea. Ocean will be followed by animated short films The Isle of Chair and Goldfish and the event concludes with a celebration of oceans and islanders with live spoken word performances and live music.
Healing is an important part of the Festival's theme and is brought to life on screen in The Boiling Water Lama on 12 December. Introduced by director Adiong Lu, the screening will be followed by a live Q&A with Lama Ngawang Jungney.
Other Festival highlights include the screening of The Age of Awakening on 6 December with a pre-recorded introduction from award-winning director, Ke Chin-yuan, and post screen talk with environmental activists in the UK. Formosan Black Bear is Coming from director Mai Chueh-Ming is an endearing documentary for children and families to enjoy together and will be available online from 6 – 12 December.
The Taiwan Film Festival is FilmTaiwan's effort to showcase the talented and distinct cinematic voice of Taiwan through a programme of classic and new independent films. It also aims to provide opportunities for Taiwanese filmmakers and producers to showcase their works to the UK and Nordic distributors with the goal of creating interactions between the countries.
The Festival begins online on 28 November, with live screenings taking place at the Rio Cinema on 5 – 6 December and 12 December, lockdown permitting. All live screenings begin at 15.30 to allow for an early finish and safe travel home to accommodate COVID curfews.
Please keep tabs on the Festival online at Film Taiwan's website  (with links for booking), as screenings may shift due to changing government regulations.
Film Taiwan
FilmTaiwan aims to make the voice of Taiwanese cinema heard around the world. The collective organizes the Taiwan Film Festival in the UK and other Nordic countries and also curates the Film
Taiwan webzine.
About Aephie Chen
Aephie Chen is a Taiwanese-born British filmmaker, based in London, and the founder and artistic director of the first Taiwan Film Festival in the UK and Nordic countries. After studying architecture and fashion, she has been practicing her concepts and themes across set design, costume design, radio and visual artworks in Europe, USA, Japan, and Taiwan. She completed an MA in filmmaking at the London Film School and now writes and directs. She has lived in many countries in her life and the stories she tells are often drawn from relationships, dreams, struggles, identities, and self-exile in contemporary society.
About Rio Cinema
The Rio is an independent 1930's art deco picture palace in Dalston, Hackney, and proud to be London's longest operating community cinema. It shows a mixture of arthouse and mainstream films programmed by its in-house team and shown on its two screens: the 400 seat main art deco auditorium and its state-of-the-art 30 seat second screen with leather armchair seats and its own cocktail bar and lounge.
The Rio is run as a non-profit charity and encourages local people to get involved by running affordable screenings for children and the over 60s, and a regular programme of educational school screenings.
Text- and Photocredit: Film Taiwan