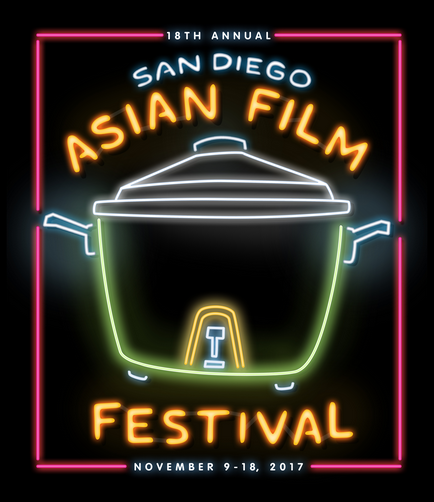 The San Diego Asian Film Festival (SDAFF) is San Diego's premier film showcase of Asian American and international cinema. Founded in 2000, the festival has grown to become the largest exhibition of Asian cinema in the western United States.
Each year, the festival brings West Coast, North American, and World premieres of films from around the world to San Diego and gives audiences unique opportunities to discover international cinema.
This year, the 18th edition of SDAFF will showcase over 150 films from 20 countries at 6 different venues in San Diego from November 9-18, 2017.
The San Diego Asian Film Festival is organized by Pacific Arts Movement, a non-profit media arts organization dedicated to sharing Asian American and international films to inspire, entertain, and support a more compassionate society.
Taiwan Film Showcase @UCSD
For the sixth year in a row, the San Diego Asian Film Festival presents the Taiwan Film Showcase, the biggest annual presentation of Taiwanese cinema outside of Asia. Every year, the Showcase highlights the diversity of perspectives, languages, stories, and genres by feature-length and short filmmakers in Taiwan today.
SDAFF is delighted to welcome director Giddens Ko to the screening of MON MON MON MONSTERS, which will be preceded by a free reception for ticket holders.
The Taiwan Film showcase is sponsored by the UCSD Chuan Lyu Foundation for Taiwan Studies, the UCSD Taiwan Studies Lecture Series, the Taiwan Academy Los Angeles, and the Taiwan Ministry of Culture.
All films are presented at the UCSD Price Center Theater and are free for UCSD students, faculty, and staff.
WHO IS ARTHUR CHU?
UCSD Price Center Theater | Sunday, Nov 12, 2017 1:40PM
From his legendary, highly-controversial eleven-game run on Jeopardy!, to his online career as a commentator for nerd culture and social justice, Arthur Chu has shrugged off the haters, sought peace with family, and confronted the personal stakes of keeping his eyes on the prize.
THE GREAT BUDDHA+ 大佛普拉斯
UCSD Price Center Theater | Sunday, Nov 12, 2017 3:50PM
A security guard and a recyclables collector pass the evening hours watching a rich man's salacious dashcam videos, only to stumble upon some footage that was definitely not meant to be seen. Satirical, unruly, and infectiously fun, THE GREAT BUDDHA+ laughs and lashes at corruption as only a work from the social underbelly can.
MON MON MON MONSTERS 報告老師!怪怪怪怪物!
UCSD Price Center Theater | Sunday, Nov 12, 2017 6:30pm
In high school, there are victims and victimizers, enablers and bystanders. There are monsters too: figurative ones that feed on trouble, and literal ones that feed on human flesh. When some of the former inadvertently capture one of the latter, the real monstrosity materializes. From Taiwan's most popular novelist-turned-director comes a savage comedy of adolescence run amuck.
SMALL TALK 日常對話
UCSD Price Center Theater | Monday, Nov 13, 2017 6:00PM
Director Huang Hui-chen sits down with her mother to talk about their family's open secret, the assumption that everyone has made but which nobody dares discuss: that her mother is a lesbian. Gripping and emotional, this award-winning personal documentary forges a bond between women and across generations.
THE LAST VERSE 最後的詩句
UCSD Price Center Theater | Monday, Nov 13, 2017 7:50PM
Ren-jie and Xiao-ping were young and in love in the year 2000, when Taiwan was abuzz with political idealism and cultural reawakening. But the decade that followed saw society, family, and bum luck shatter their romantic dreams, leaving only memories of innocence and the poem that first united them.
A FISH OUT OF WATER 上岸的魚
UCSD Price Center Theater | Tuesday, Nov 14, 2017 5:30PM
The teachers at Yian's kindergarten are concerned that he keeps mentioning "past parents," a mysterious invocation that doesn't bode well for his actual parents, who are undergoing their own marital problems. Yian is a quiet observer of family unrest, at the same time that he conjures a ghostly alternative: past lives to shake up future possibilities.
THE SILENT TEACHER 那個靜默的陽光午後
UCSD Price Center Theater | Tuesday, Nov 14, 7:20PM
Because of cultural mores pertaining to the afterlife, medical schools in Taiwan don't receive many cadaver donations. So when wife, mother, and now "silent teacher" Hsu Yu-e leaves her body to science, her death sets off two years of waiting, grief, but above all gratitude between her family and a medical school.
See the full schedule of Taiwan Film Showcase in our calendar.
More Info at San Diego – Asian Film Festival's Website