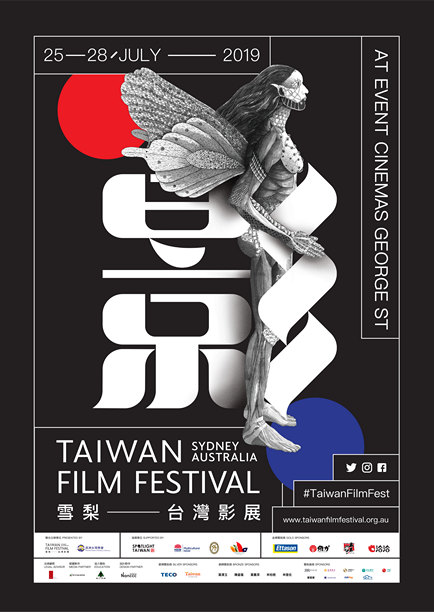 Following a successful launch in 2018, the 2 nd Taiwan Film Festival in Sydney returns to Event Cinemas George Street from 25 to 28 July 2019. Fresh from film festivals and the Taiwanese box office, this year's line-up offers 10 feature films, 4 Golden Horse Film Academy shorts and two independent short films. With a focus on abstraction in art and cinema, the program explores social themes and current issues to create a vivid snapshot of contemporary and traditional life in Taiwan.
Opening the festival is Ohong Village , directed by Lung-Ying Lim, was in competition at the Taipei Film Festival. Capturing the beautiful scenery of remote south western Taiwan in 16mm, the film portrays human greed and desire in seeking the illusory success of an urbanite. After the screening, Director Lim will be onstage for a Q&A to share the ideas behind his work.
Wrapping up the festival is Ching-Lin Chan's award-winning The Island That All Flow By , a powerful and confronting portrayal of working-class life during a time of cultural transformation.
"Screened in competition at film festivals, Ohong Village and The Island That All Flow By are debut feature films that showcase the talent of Taiwanese directors. Their humanistic films highlight the inner struggles and hardships experienced by individuals of the working class,"
says Festival Director Benson Wu.
This year's program will also present two films by auteur Ming-Liang Tsai—a retrospective screening of  The River (1997) that won Special Jury Prize at Berlin International Film Festival; and a brilliant study of portraiture featuring a synthesiser score by acclaimed composer Ryuichi Sakamoto, Your Face (2018), co-presented with Antenna Documentary Film Festival.
One of the highlights is Nina Wu, a powerful and courageous psycho thriller by Midi Z and was selected for Cannes Film Festival 2019 – Un Certain Regard. Inspired by the MeToo movement, Nina Wu is an exposé of the treatment of women in the film industry and draws upon personal experiences of writer-actress Ke-Xi Wu.
Showcasing the budding talents of Mandarin-speaking regions is four short films from the Golden Horse Film Academy which was established by Hsiao-Hsien Hou in 2009. Each year, 10 to 12 students are selected to take part in this mentorship and development program in
Taiwan to produce short films. The Taiwan Film Festival in Sydney will present Upstairs, Downstairs, Fish Tank, Minus, and Flow of Tides.
This year's line-up will feature two documentaries. The award-winning doco film, Our Youth in Taiwan, follows two leading activists of the Sunflower Student Movement, the largest social movement in recent Taiwanese history. Lost Black Cats – 35th Squadron is a historical documentary on the Taiwanese pilots involved in the American U-2 project to uncover China's development of nuclear weapons in the 1960s and 1970s.
It's a Mad, Mad, Mad, Mad Show is brilliant, quirky and fun. Adapted from the successful comedy theatre production Crazy TV, it is a side-splitting trip to the darker side of Taiwanese television. For those who crave more action, The Scoundrels, is an electrifying neo-noir by rising star Tzu-Hsuan Hung. It premiered at Busan International Film Festival 2018.
Commercial director Maren Hwang delivers a sophisticated and artistic mystery drama in his debut feature film, Xiao Mei. Features cinematographer Nagao Nakashima's (The Great Buddha+, Godspeed) stylish, pared-back visuals, and voice-over narration by Hsin-Yao Huang (The Great Buddha+).
"The Taiwan Film Festival in Sydney's 2019 program strays away from liner narratives and clear cut storytelling, and challenges audiences to contemplate what art and cinema are," says Benson Wu. "We are very excited about this year's program and collaboration with the Golden Horse Film Academy. We look forward to be a part of the conversations that will emerge following the festival screenings."
The Taiwan Film Festival in Sydney would also like to acknowledge the generosity and support of its sponsors. Thank you to the Taiwanese Chamber of Commerce in Australia, Spotlight Taiwan, Multicultural NSW, Ettason Ltd Pty, Ministry of Foreign Affairs from Taiwan, Taipei Economic and Cultural Office in Sydney, Australian Taiwanese Friendship Association and Taiwan Tourism, as well as the individuals and volunteers who have made this festival possible.
For more information, please visit Taiwan Film Festival Sydney
Taiwan Film Festival Sydney
The Taiwan Film Festival is an annual film festival event to provide a professional showcase platform for Taiwanese filmmakers to promote the Taiwan filming industry and culture in Sydney, Australia. The event will (a) provide local Taiwan residents with the opportunity to enjoy artistic works from their home heritage and culture, and (b) create an artistic platform to expose and educate Taiwan culture to people from other cultural groups.
Festival Director | 影展總監  : Benson Wu
Program Manager | 節目經理 : Dale Wu
Board Members : Benson Wu, Philip King, James Woolley,  Matt Bartlett, Austin Tuon, Tracy Chang, Margarett Cortez
Text source and photocredit:  Taiwan Film Festival Sydney