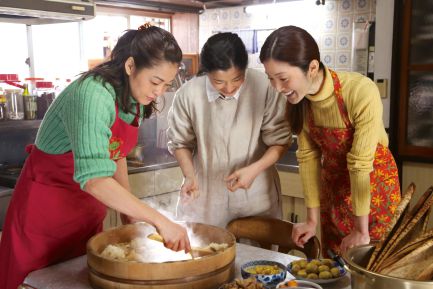 CinemAsia Film Festival takes place 6 to 11 March 2018 at Kriterion and Rialto cinemas in Amsterdam. With an unprecedented number of guests attending the festival, both the film industry and the public will have the precious opportunity to interact with creators who are making waves in Asia's dynamic cultural scene. With 'The Young Asian Generation' as a general theme CinemaAsia Film Festival spotlights a new and successful crop of filmmakers and actors. Their authentic and fresh views give nuance and depth to this fascinating and complex continent.
In addition to the many great films (see the full program on Cinemasia Website) we'd like to draw your attention to these films related to Taiwan:
Taiwan | 2017 | 104 minutes | Drama, Black Comedy | Taiwanese dialect, Mandarin (English subtitles)
Director: HUANG Hsin-Yao | Cast: Cres CHUANG, Bamboo CHEN, Leon DAI, CHEN Yi-wen
Taiwan | 2016 | 100 minutes | Documentary | Mandarin (English subtitles)
Director: WANG Wan-Jo Cast: HU Ding-Yi
New Turn 轉彎之後
Hong Kong/Taiwan | 2017 | 103 minutes | Road Movie | Mandarin, Cantonese (English subtitles) | European premiere
Director: Doris WONG | Cast: Cherry NGAN, CHANG Tinghu, HUANG Yao, BO Zhijie
What's for Dinner, Mom? ママ、ごはんまだ?

Japan | 2017 | 117 minutes | Drama | Japanese,
Taiwanese
dialect (English subtitles)
Director: Mitsuhito SHIRAHA | Cast: Haruka KINAMI, Izumi FUJIMOTO, Michiko KAWA
Small Talk 日常對話
 (won the Teddy Award at the 67 Berlin Biennale 2017)
89 minutes | Documentary | Taiwanese dialect, Mandarin (English subtitles)
Director: HUANG Hui-chen | Cast: HUANG Hui-chen, HUANG Ah-nu
International Women's Day at CinemAsia 2018
Supplementing its line-up of films with strong women roles – both behind and in front of the camera – CinemAsia Film Festival 2018 also organizes a special programme and talk show for International
Women's Day on 8 March. Meanwhile, CinemAsia's LGBT progamme comes backed with award-winning documentary Small Talk and the 'Gaysian Invasion' exhibition by acclaimed artist James Jarvis.
As part of its special programming for International Women's Day on 8 March 2018, CinemAsia Film Festival will be screening the award-winning documentary Small Talk by Taiwanese filmmaker Huang Hui-chen. This deeply layered film is both personal and universal: spurred by her difficult relationship with her mother, Huang goes in search of her mother's identify as woman, mother and lesbian after she comes out later in life – in a society that wraps homosexuality with many different taboos.
Small Talk premièred at the 67th Berlinale in 2017 – the same year that Taiwan became the first Asian country to legalize gay marriage – and won the Teddy Award for 'Best Documentary'. The film was also an entry for the 2018 Oscar competition.
The Small Talkshow – A talk for and by queer women will use this film as venture point to explore the theme of being a woman in all its facets, and to open up discussion around queer subjects that are still taboo
within Asian culture. The talkshow will be moderated by Sanne Pols (co-founder of IncInc, columnist, presenter) and feature Huang herself – who is on hand as one of the festival's international guests.
About CinemAsia Film Festival
Founded in 2003, CinemAsia Festival is the only pan-Asian Film Festival in the Netherlands.
Besides showcasing Asian cinema's richness in themes and genres, the programme also seeks to reflect the region's complexity in terms of cultural, social and political diversity.
CinemAsia provides a platform to up-and-coming and independent filmmakers of fiction and documentaries, as well as showcasing high quality mainstream films.
The festival creates space for the public and the film industry to meet, interact and experience each other. A broad public programme seeks to reflect the richness of Asian cultures, through food market, meet-and-greets with filmmakers and thematic debates. A special industry programme focuses on bringing together the Asian and Dutch film professionals.
Link to CinemAsia Film Festival
CinemAsia FilmLAB
The CinemAsia FilmLAB is CinemAsia's talent development programme, wherein young talent with Dutch-Asian roots are given encouragement and technical support to realise their stories into a short film. Each year a new theme is introduced. Through this programme, CinemAsia contributes to the better representation of makers with Asian roots and their stories within the Dutch film and television landscape. This year, FilmLAB pioneered a collaboration with Taipei Media School in Taiwan to offer a month-long internship program for two students to come to Amsterdam for an immersion course at FilmLAB and participate as film ambassadors during the festival.
Link to FilmLAB
CinemAsia is the only festival for Asian culture that gives specific attention to the Dutch-Asian LGBT community through an annual programme focusing on relevant themes.
See schedule on our calendar and get all the info from Cinemasia Film Festival's Website
Photocredit: CinemAsia Film Festival