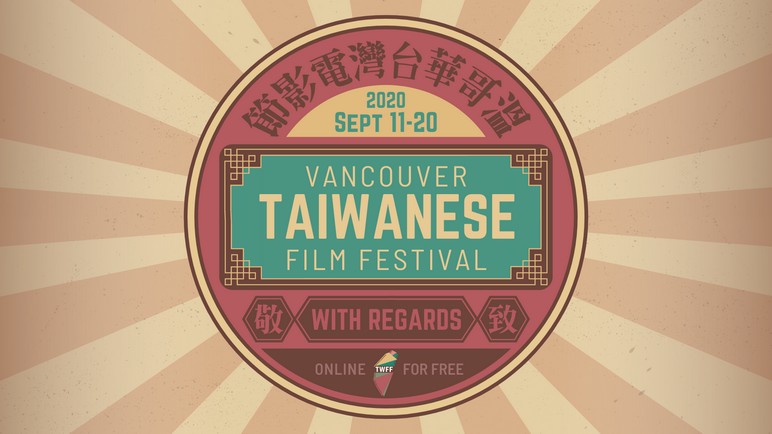 The 14h Vancouver Taiwanese Film Festival, showcasing again great films from Taiwan, has moved online this September! Even if it's only available in Canada and Taiwan, it's worth mentioning this great event on our site as we did over the last years (see our articles from  2019, 2018, and 2017).
The new streaming format allows audiences to enjoy excellent films from the comfort of your homes. In light of the economic impact during this pandemic, TWFF has decided to offer its selection for free this year.
All you need to do is Register for the films you would like to watch, and then check your email for confirmation with instructions to access the film(s).
Films
Enjoy  8 curated films that span multiple topics and genres so you can be fully immersed in the diverse Taiwanese culture.
Archiving Time
(
Documentary / Color / Mandarin / Mandarin & English Subtitles / 63 min / 2019) , 
The Fantasy of Deer Warrior
(
2K Restoration / Narrative Feature / B&W / Taiwanese / Mandarin & English Subtitles / 87 min / 1961),
Onstage Appearance
(
Short film / Color, B&W /  Mandarin & Taiwanese / Mandarin & English Subtitles /  20 min / 2019),
Forever Love
(
Color / Mandarin & Taiwanese / Mandarin & English Subtitles / 124 min / 2014) ,
Like Father, Like Daughter
(
Short film / B&W /  Mandarin & Taiwanese / Mandarin & English Subtitles /  21 min / 2019),
Foolish Bride, Naive Bridegroom
(
B&W / Taiwanese / Mandarin & English Subtitles / 101 min / 1967),
A Foley Artist
(
Documentary / Color / Mandarin / Mandarin & English Subtitles / 101 min / 2016
), 
Nina Wu
  (
Drama / Color / Mandarin / English Subtitles /  102 min / 2019
).
Panels
In addition to the Film Program, there are three panels to introduce the people behind the scenes to the audience.
The first one, about film restoration, Dr. Ray Jiing, who has called for appeals and actions during his tenure as Director of Taiwan Film Institute, along with the professionals of video and sound restoration and preservation in College of Sound and Image Arts, Tainan National University of the Arts.
In the documentary, A Foley Artist, the foley artists work in small recording studios, with their limitless imagination, to produce the special sound effects in film.
In Nina Wu, the process of the actress audition reveals the reality of "dreaming to become a star", with suppressions undertaken in the power hierarchy and the delicate psychological shifts of those so-called "failures".
No registration required, the panels will be available to view on social media.
Bringing Back the Memory – Taiwanese Film Restoration Experience 
Using two classic Taiwanese language films, The Fantasy of Deer Warrior and Love Amongst War, and various supplement cases of film restoration for "home videos"  as examples, Dr. Ray Jiing will give an overview of the development of film restorations in Taiwan from both commercial and private perspectives. He will give a virtual tour in "the restoration facilities" at Tainan National University of the Arts, to explain the importance and difficulty of film restoration, so you could also witness the civilian culture in the history of Taiwan through the recovered film strips.
Foley – The Hidden Sound Magic Behind the Scene
"Foley artist" is the magician behind every sound in a movie. Foley artist is a very crucial role in films, however, they are the minority of the minority in the film industry. Whether it be the sound of stirring cooking oil in the frying wok, the footsteps of the actor chasing the bus, or the spooky knocks on the door in horror movies, these are all made by the foley artists from the tools that we would never imagine.
Sex and Power: The Transformation of Film Industry in The Post #metoo Era
The #metoo movement has been an important hashtag on social media since 2017, it helped victims to step up and face the issues of authority structure and sexual oppression. Mainstream entertainment industries such as Hollywood, where the situation is dire, are doing what they can to raise awareness of the issue. But other places like Taiwan and Vancouver are also putting much effort in dealing with systematic sexism as well.
If you would like to help continue to promote Taiwanese films in Vancouver, we encourage you to make a donation on their Support page.
See the full program with the screening schedule here: TWFF 2020
Vancouver Taiwanese Film Festival
The Vancouver Taiwanese Film Festival (TWFF) is an annual non-profit arts and cultures initiative started in 2007. It has been well-received by the Vancouver communities, and over the years, has become the largest film festival focusing on Taiwanese cinema in North America.
Over the past 13 years, TWFF has presented more than 100 Taiwanese films and invited many filmmakers and directors to Vancouver. Each year, there have been record-breaking box-office sales and tremendous increase in media coverage. It not only feeds the multiculturalism in Canada but also builds a bridge connecting the art of Taiwanese films with Canada to create an even more diverse community.
Every year, representatives from international embassies and all levels of Canadian government attended the film festival in recognition of TWFF's continuous efforts in contributing to the diversity and enrichment of Canada's multiculturalism. At TWFF's 10th anniversary, TWFF were honored to receive a personal greeting letter from Prime Minister of Canada, Mr. Justin Trudeau, presented by Minister of National Defence, Mr. Harjit Sajjan, to acknowledge the remarkable milestone of a decade of inter-cultural celebrations.
Films are the best window into the culture, the most direct and popular method of reaching both the young and the old. Whether it is Taiwan's breathtaking landscapes or glamorous urban life, its historical stories or current hot topics, its traditional culture or modern trends, its finest cuisines or night market street foods, or its arts and music, all of these can be showcased through films.
Promoting cultural exchange between Canada and Taiwan for over a decade, TWFF remains all the more committed to our initial mandate – to provide a cultural bridge between Canadian society and Taiwan through the art of cinema. TWFF's mandate is the encouragement and appreciation of motion pictures as a medium of art, information or education.